From patrol officers to SWAT teams, uniformed law enforcement officers wear their agency patches with pride. For the last 40 years, Hero's Pride has perfected the art of making custom police patches that show vivid color and unparalleled details. 
Our custom patches are manufactured to ensure exact details, accurate color reproduction, clean stitching, and crisp designs. If you are not sure what patch style is best for your law enforcement agency, read about the different types of patches we manufacture.
Ordering is easy: send us an image of your current patch, police logo or jurisdiction seal, or a simple sketch of what you'd like on your patch. We will walk you through the details with no obligation on your part, until you are ready to order! CLICK HERE FOR A NO-OBLIGATION QUOTE.
Sharp Lettering

1 of 5
Distinctive Details

2 of 5
Defined Edges
3 of 5
Consistent color matching
4 of 5
Clean stitching
5 of 5
EMBROIDERED POLICE BADGE PATCHES
Every Police Department and Sheriff's Office require embroidered patches as a finishing touch for their law enforcement uniform. With over four decades of experience creating award-winning designs and logo patches, our creative team of highly trained "embroidery artists" will assist you in reproducing your agency seal with precision and detail reproduction that will allow every officer and deputy to wear it with Pride.
PVC is the choice of many Law Enforcement SWAT team who need a police patch that is resistant to even the most extreme conditions. 
Every year, more and more Police Departments and Sheriff's Offices choose custom PVC Police patches.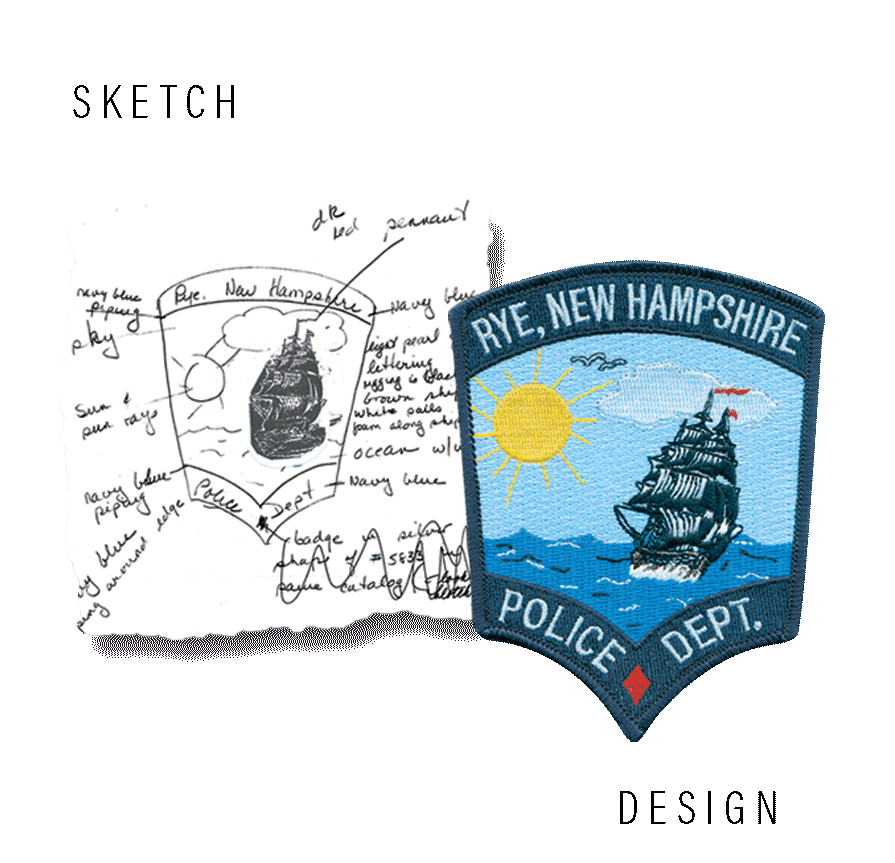 Sharp Lettering

1 of 3
Distinctive Details

2 of 3
Defined Edges

3 of 3
DESIGN OR REPLICATE YOUR POLICE PATCH
Whether your law enforcement agency needs brand-new police patches, or wants to enhance the current patch, let our trained specialists show you how to elevate your police uniform patch game.
From embroidered patch for uniformed patrol officers, to PVC patches for SWAT teams, or morale patches for an agency event, Hero's Pride takes police custom patches to a new level.
To receive a no-obligation quote on your agency's custom patch, fill out the form below.
If you decide to proceed, we will take care of the rest, including sending a pre-production sample, through the authorized Hero's Pride retailer in your jurisdiction.
GET A NO OBLIGATION QUOTE – CONTACT US TODAY
Frequently Asked Questions
Built Tough. Action Ready.
Hero's Pride® offers three innovative lines of duty gear exclusively designed for law enforcement officers and public safety professionals. We've developed a breed of duty gear that not only alleviates lower back pain and discomfort due to the weight of a rig, but also increases the longevity of gear performance.